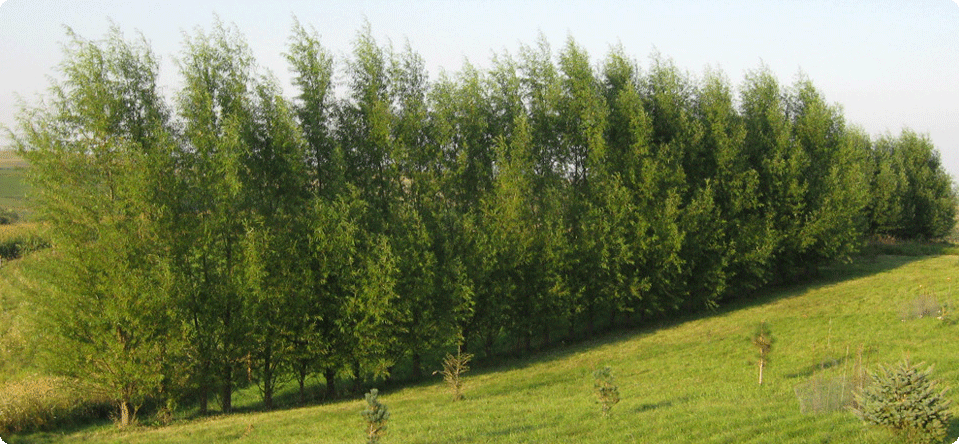 Fast Growing Trees
Bigfoot Willow Hybrid for Screening Purposes
Bigfoot Willow Hybrid trees can work well as a fast growing privacy screen. Its structure is densely stemmed, thus when it is in leaf, it is difficult to see through its leafy mass. In winter, when this hybrid willow is leafless, it can be seen through, but still adds a better screening effect than nothing at all.
Some places have ordinances against building fences, but have nothing against using these fast growing trees for this purpose. So the Bigfoot Willow Hybrid can be an option when a person is restricted from actually putting in a real fence, yet get some of the same desired effects they are seeking. Natural living fences also help wildlife, and create a more peaceful environment. Two things to remember:
If you do use Bigfoot Willow Hybrid trees for these uses, remember to take your neighbors into account. A complaint neighbors often have is that the trees are planted on the property line, thus not taking into account the mature spread of a tree, which would consequently have a lot of its growth on the neighbor's side.

Look above you and realize if there are power lines or other lines above you, that the Bigfoot Hybrid Willow will grow into them. These hybrid willows take well to shearing, so one could always prune their tops each spring to keep them a certain height if they are working in restricted space.
Though this fast growing tree cannot create a solid noise barrier, they can be used for noise mitigation; the leaves create their own calming sound, helping drown out noise pollution. The Bigfoot Willow Hybrid helps you with this problem fast, so you have a serene environment to enjoy.